They went to kindergarten, elementary school and the Science and Mathematics High School together, so no wonder they both enrolled in the Faculty of Mechanical Engineering and Naval Architecture, and it's even less surprising that they started their own company before graduation. As twins, Nenad and Zlatko Vuković stood out in their generation among 400 enrolled students from the very beginning.
They almost got in trouble once because they looked so much alike, when they took the oral exam with professor Stjepan Jecić. Zlatko was the first to take the exam, he passed, left the room and Nenad entered the room right after him. The professor got confused, he thought the same student who passed the exam a couple of minutes ago entered the room again. Nenad explained that it was impossible - he asked him to have a look at the written exams and to compare the handwriting with what Zlatko just wrote a couple of minutes ago. Professor Jecić really did that, he smiled and apologized for being suspicious as he saw that the biggest difference between his two students was - in their handwriting!
"Quite often, our colleagues teased us by saying that one of us had to study for one exam, and the other one for something else. But that was not possible, because we always took the same exams, and each consisted of a written and an oral part. The reason of our success with the exams was that we always did everything together, so we studied together, too. Even today, we are approached by our colleagues from those times who actually know only one of us."
They both have fond memories of their studying years and many anecdotes from those times. One mathematical rule stuck with them particularly, because of the legendary professor Vladimir Devide, who was also known as a promoter of the Japanese culture and haiku poetry. He helped his students remember the Saruss' rule by pointing out that "saru" in Japanese means "monkey" - which of course anyone should know.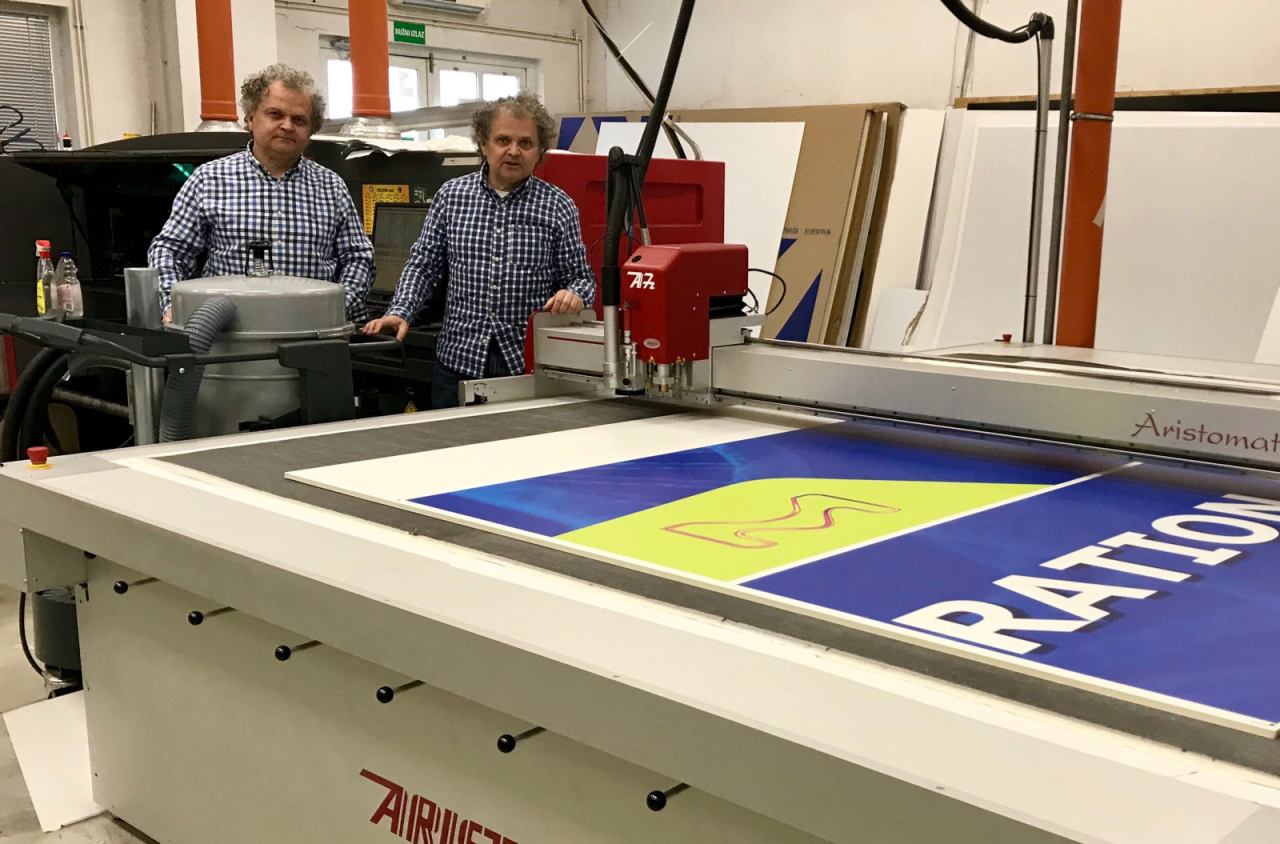 The Vuković brothers first encountered CAD software at FSB, in the Design Theory course at CADLab. They were also student assistants in the course Selected Design Methods and their fascination with digital technologies was driving them when they started their own business, Print Studio, even before graduation - by procuring the first CNC label cutter.
"We have always followed the trends in sign industry worldwide, from our first store which was a complete novelty with respect to sales concept and urgent service delivery. We visited fairs worldwide, looking for something the competitors did not include into their offer. Every year, from the very beginning, we have been investing into new technologies and materials to make sure that, through innovations, our products and services are always ahead of the game.
To be able to create new products on a daily basis requires an innate ability. However, our engineering, analytical and innovative approach is something we have perfected at FSB, and that is the key of our success."
Their company has been successfully in business till this day, with the initial idea that all the machines, printers and devices involved in a production process should be computer-controlled.