It all started in 2004 when a single FSB student has stumbled upon Formula Student online. After a lot of persuasion and arrangements with professors of Chair for motors and vehicles on FSB and Studentski zbor of the same faculty, in early spring a presentation of the project was held to the students.
The project started to develop after the first meeting which had the attendance of 150 students, professors and other faculty employees. To achieve our goals with ease, we have revived the student association The Croatian Student Association of the Faculties of Mechanical Engineering (HAS-SF) which has been inactive for several years at the time.
Today, FSB Racing Team's projects have grown into big interdisciplinary unities in which students from various parts of University of Zagreb (FSB, FER, EFZG, FPZ, FKIT, Design studies) are perfecting their knowledge. The project is followed and supported by Faculty of Mechanical Engineering and Naval Architecture (FSB). Our project has got multiple aspects, from promotion, development and improvement of technical sciences in Croatia, including encouragement of creative work, all the way to the promotion of Republic of Croatia and its high-quality academic education worldwide.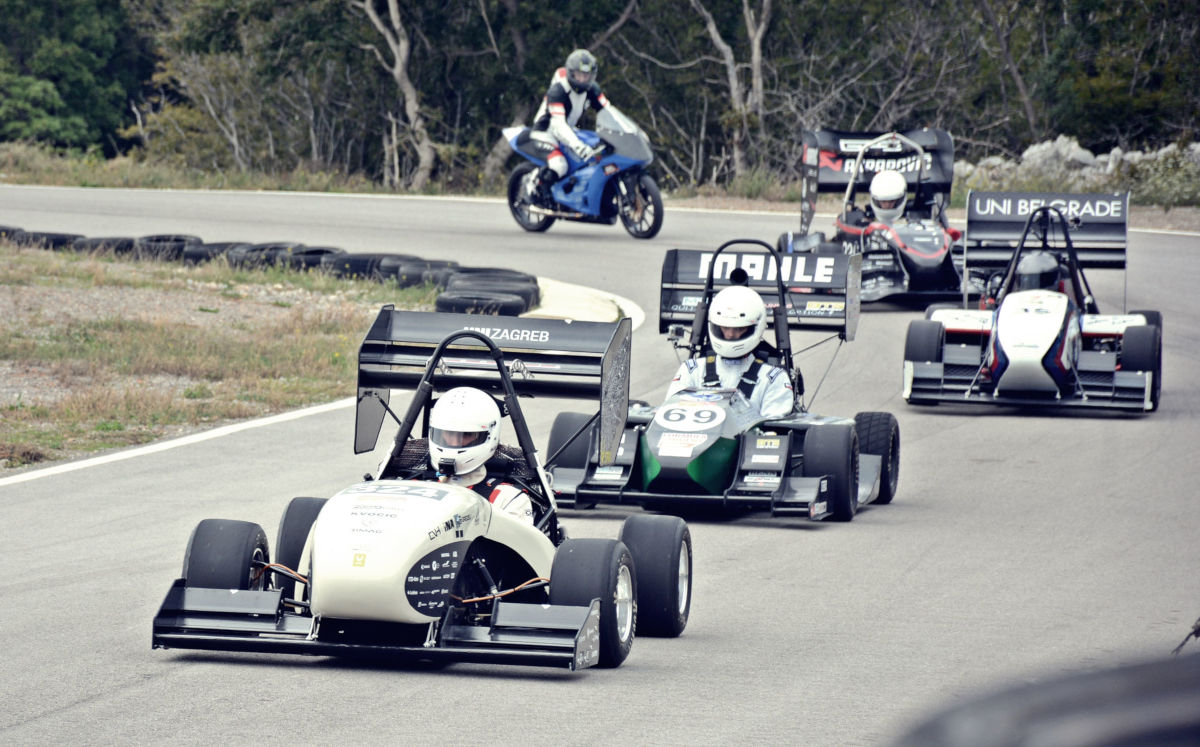 The competition is designed to encourage innovation and the students' ability to apply theoretical knowledge learned in university. The evaluation is divided into static and dynamic part. The static tests consist of Engineering Design, Cost & Sustainability Analysis, Business Plan Presentation and Technical Inspection. The dynamic events are Skidpad (figure of 8), Autocross/Sprint, Acceleration, Endurance and Fuel economy.
The cars need to pass technical inspection to ensure safety on dynamic events. These technical inspections are carried out by people with lots of motorsport experience in Formula 1, WRC, or touring car championships. The main focus of the competition isn't racing and lap times, but rather innovation and application of theoretical knowledge in a practical environment.
One of the key parts of the competitions is financing, since the entire project is financed by sponsors and donors. This is where the team members show their marketing and managing skills. The first competition happened in 1980s in USA, and later the competitions were held across the world. Today there are over 20 countries which host competitions. The largest ones are in United Kingdom, Germany, Italy, Austria, Czech Republic and Spain. The competitions are organized by societies such as iMeche – England, SAE-SAD, VDI – Germany etc. The competitions are international, therefore there can be over 100 teams from the entire world competing.
Over the last 15 years we have attended many European Formula Student competitions. The most important thing to point out is the 10th place out of 97 competitors in Silverstone in 2014, one of the most demanding competitions. Last year's repeat success with StrixR in Silverstone is also something we are very proud of, winning 12th place out of 81 team worldwide.
For more information you can visit our Facebook Page, Instagram profile, web page and YouTube channel!