In the project RONNA (Robotic Neuro-Navigation), a robotized system for stereotactic navigation with the application of neurosurgery was developed. In June 2018 RONNA was awarded with Best Integration and Innovation Award at the 11th Hamlyn Symposium on Medical Robotics organized by Imperial College London.
The basic objectives of the project are:
to enhance the stereotactic navigation using robotic technology by linking digital image of patient, computerized neurosurgical operation plan and control system of robot,
to apply a dual-arm configuration: one robot for navigation, and the other for instrument handling,
to implement intelligent and intuitive control system.
So far, four generations of RONNA systems have been developed. The first two generations were created as a result of intensive research of technological concepts based on complex functional requirements and security constraints. Thanks to the resources of the European Regional Development Fund, RONNA has been promoted to clinical and commercial levels. Modular medical mobile platforms were designed for both robots, and the system had a recognizable look. After numerous preclinical trials, the third generation was released by which on March 10. 2016. the first robotized stereotactic neurosurgical operation was performed, beginning the phase of clinical trial of the system. It was also the first such operation in this part of Europe.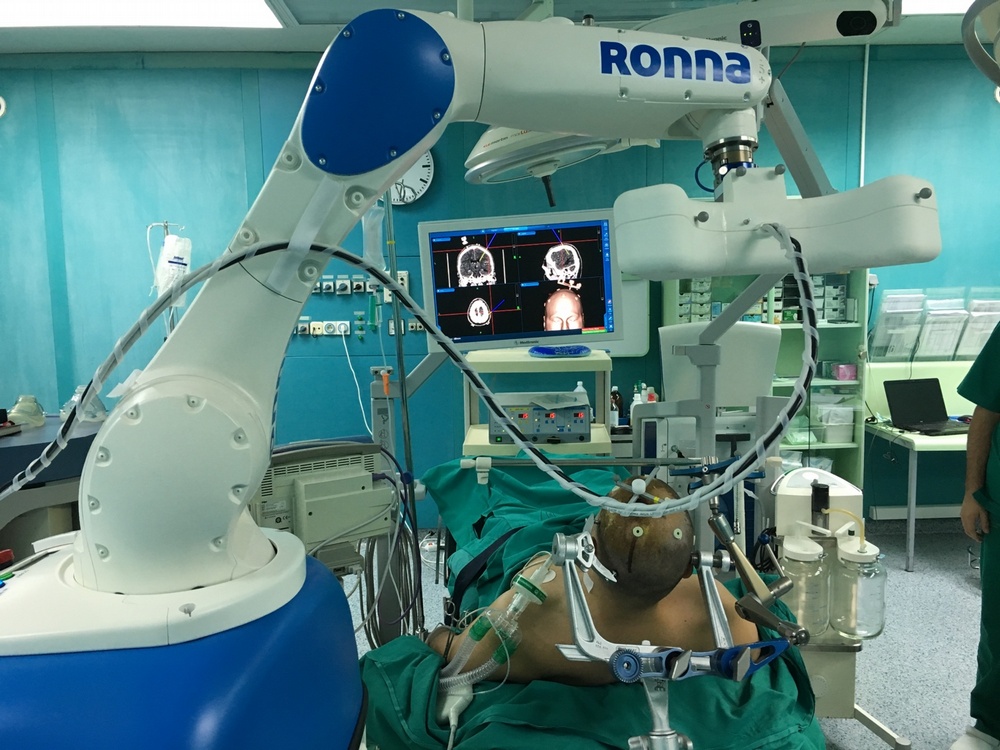 The fourth generation of the RONNA system, which is currently in the procedure of clinical trials, contains a number of improvements over previous generations, primarily in terms of accuracy of stereotactic navigation, and is used on a weekly basis in KB Dubrava, contributing to the reduction of postoperative trauma and faster recovery of patients.
Among the most significant contributions of the RONNA project are:
development of new control models for interactive robotic operation in neurosurgical applications,
original system of precise robotic neuronavigation,
design of specific instruments for robotic use in neurosurgery,
development of new procedures in neurosurgical practice based on robotic application.
The project was launched in 2007 at the Faculty of Mechanical Engineering and Naval Architecture, University of Zagreb, in cooperation with Clinical Hospital Dubrava and the Croatian Brain Research Institute. Initial project authors are prof. dr. sc. Bojan Jerbić (Project Manager), doc. dr. sc. Darko Chudy and prof. dr. sc. Gojko Nikolić. The project was originally funded through the State Program for Technological Development TEST and funds from the Ministry of Science, Education and Sports, followed by the International Funds of the UKF (the Unity Through Knowledge Fund), the Croatian Science Foundation and now the European Regional Development Funds Fund (EFRR Strengthening Capacities for Research, Development and Innovation - RC 2. 2. 08).